Post published:

July 26, 2021
Please meet Scott Bradford! Woodworker, artist, outdoorsmen!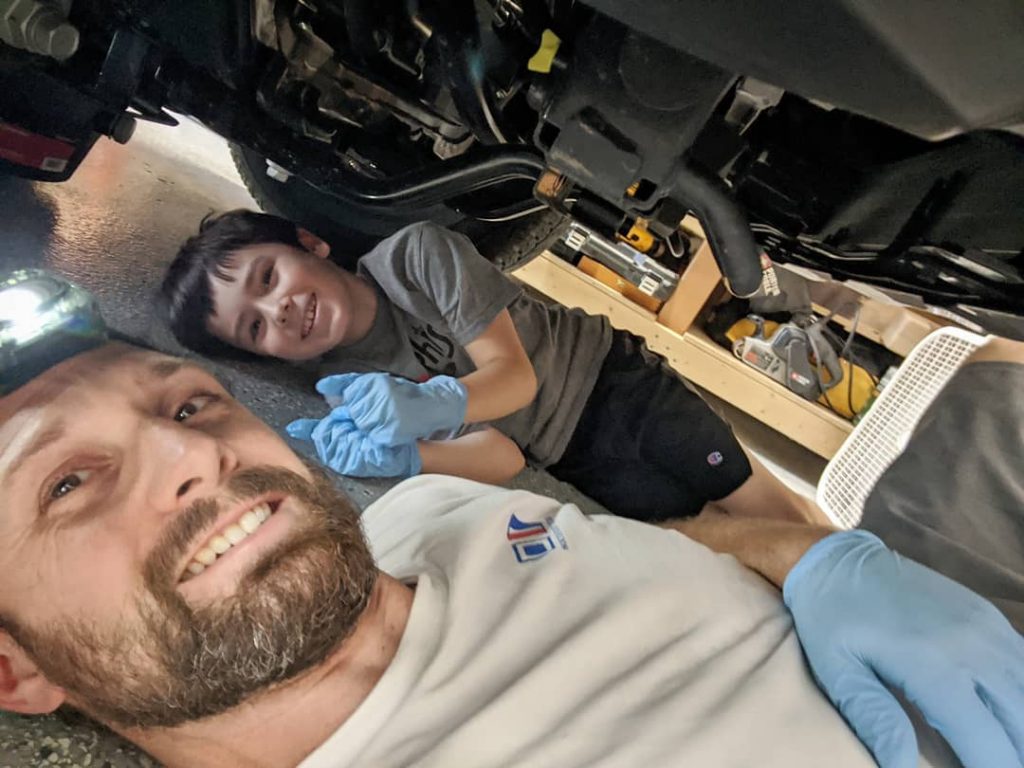 What's your name?
Scott Bradford
When were you in MM?
2002-2005 I joined in 2001 as a member and have been active at events and on the forum ever since.as a student
What made you join MM?
I was already a car enthusiast and very interested in trying my hand at motorsports, so MM's club goals made for a perfect fit. When I approached the MM display at the Student Org Night I also saw that it was a welcoming group of people, who were all smiles and clearly passionate about what they were doing. 20 years later, I feel like that image in my memory still represents the officers and membership today.
What role did you have in the club?
Secretary from 01-05
What were you best known for when you were in the club?
I offered up my services for some of the club graphics (including a legendary beer pong table) and had an obsession with Audis, which would later come back to bite me when I owned one after graduating and it nuked my bank account and threatened to end my marriage.
What was your favorite memory as a student? As an alumnus?
I can't remember the year, probably 2002? Anyway, we had a huge group of MMembers who were planning to drive and work at Summit Point for the last event of the year. Gerald (pres at the time) did his best to organize the rooms at this incredibly seedy hotel near the track because it was cheap and relatively close. Well we get there and they forgot to book half the rooms. So we had about 20 guys trying to sleep in 2 rooms. I'm talking people sleeping in the bath tub, on top of the dresser, 5 to a bed. It was chaos, and I don't know how any of us got any sleep or didn't contract lice or worse. Somehow we all managed to have an awesome time at the track the next day, and it was my first exposure to working as a flagger and being RIGHT next to the action on track. You cannot beat the first time you're right on top of the noise and action and that smell of burning brake pads. I was hooked from there on out, and worked many events after that until graduating. Everyone made it back from that event in one piece, although I seem to remember Sean's E30 spit a half-shaft in the rain, at night, on 29 North heading home on Sunday and we had about 3 guys under his car, 2 feet off the side of the highway, who managed to patch it up. Typical MM right there.
What impact did the club have on you?
I came to see motorsports as not just accessible to your average person, but critical in understanding your vehicle and elevating your everyday driving enjoyment as a whole. But really, it taught me more than anything what enthusiasm and teamwork at a club level with great people does for lifelong friendships. I still regularly talk to so many people I knew from those early years, and some of them were in/at my wedding, and I've attending some of theirs. I even went into business relationships with some of them. They're easily some of my absolute favorite people and without a doubt changed my life for the better. I'm certain 40, and maybe even 60 years from now (if I haven't yeeted myself into something in our 2000hp electric transportpods by then, hail Elon) I'll still be talking to them and trying to support the club.
What did you drive as a student?
a 1990 Nissan Maxima and later a 2001 Honda Accord. Proof you can drive slow garbage and still have a great time.
What are you driving now?
a 2010 Honda Civic Si. Proof you can drive slow garbage and still have a great time.
What are you up to nowadays? (Plug yourself!)
After graduating from JMU in 2005 with a degree in Studio Art I started my own graphic design business in 2010 as a Freelance Graphic Designer after doing that kind of work unofficially for 5 years prior after I'd get home from my job as an corporate 9 to 5 artist. Bradford Ink., LLC has become a successful 1 man show supplying services to various corporations, startups, and in contract capacities mostly on the east coast. I've had the opportunity to design a logo for one of our active racing Alumni which is even featured on his racecar (a bucket list moment for me) and I even had the chance to join in a partnership venture as the lead designer with 2 other MM Alumni which was awesome. I've been featured on Blipshift 4 different times and supply a lot of the current MM graphics.
What else should we know about you?
I'm still chasing more track experience but for now, what most people know me for is my involvement in rallycross. In my old Subaru 2.5RS, I was able to take home the 2013 season win in the Street Tire, Under 2.5L rallycross class with Tarheel Sports Car Club. I'm currently building my Civic for the Prepared FWD class with my local SCCA region which is Atlanta or Middle Georgia depending on the venue. I've also had fun sharing a cool project that falls somewhere between cars and carpentry, which was finishing a custom Teardrop Camper build in 2019. It accompanies our Toyota 4Runner on camping adventures and you can see a detailed build thread for that either on our very own forums on on Grassroots Motorsports Forums at: https://grassrootsmotorsports.com/forum/build-projects-and-project-cars/choose-your-own-adventure-a-teardrop-camper-build/163409/page1/ I'm as active nowadays in the club as I ever was, just from a distance. If you ever have any questions I'm happy to reach out and help.
Interested in being our next AluMMni Spotlight? Submit this form!
https://docs.google.com/forms/d/e/1FAIpQLScgRaZZ40E_hKO1wztokmeOKrmP2zQA_lS7rYNbU91Iy9-TvQ/viewform?usp=sf_link